Why Lead Retrieval Is Essential to Building Better Relationships
Hosting an exhibition hall at your event is a win-win-win situation for you, your attendees, and your sponsors. They're the perfect place to meet new people and build relationships that can positively impact the event, the people, and their organizations.
Benefits for attendees
Find new products and services to help you innovate and create efficiencies in your current operations.

Meet experts and collaborators that can help you and your organization grow.

Build your network with new industry contacts.
Benefits for sponsors and exhibitors
Get real-time feedback on new products and services as you demonstrate exactly how to use them.

Expand your customer base and lay the foundation for new client sales during and after the show.

Demonstrate your expertise to build your company's status as a legitimate resource for industry solutions.

Your next great employee could be the attendee who stops by your booth and falls in love with your products and services.
Benefits for event planners
Improve the event experience by layering opportunities for learning beyond the lecture hall.

Monetize your event and make new experiences possible with sponsorship and exhibitor support.

Establish your authority as the event to attend for learning, networking, and more.
How GTR Leads™ makes relationship building easier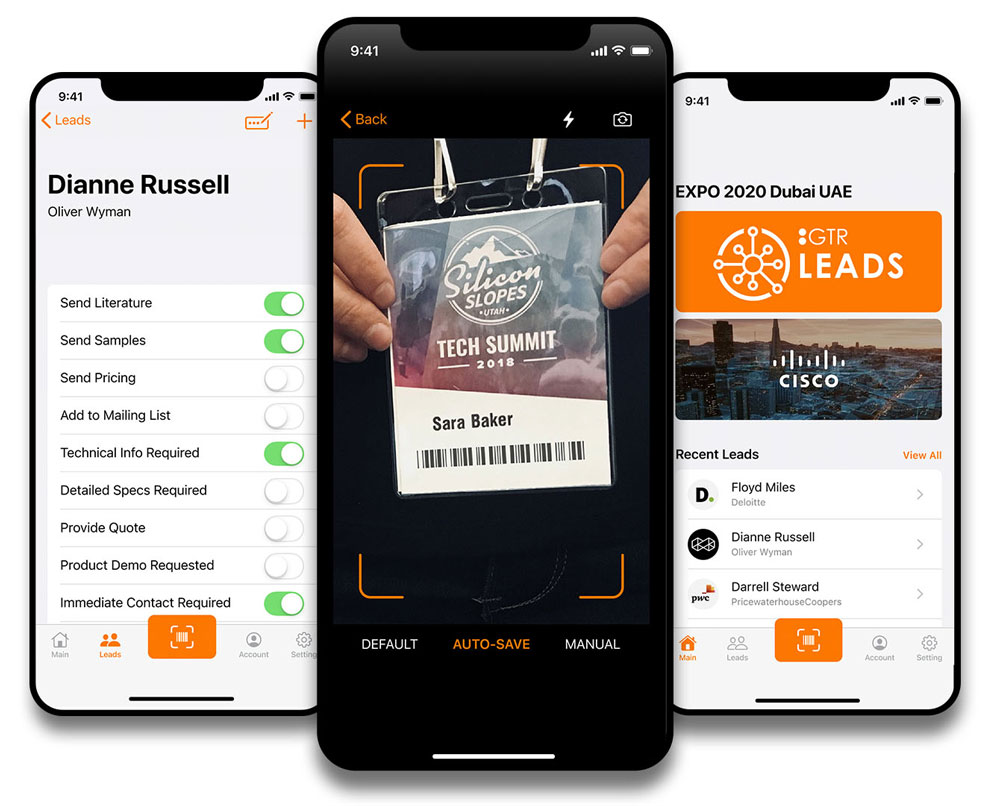 Book a Demo
Book a Demo
PLUS, exhibitors can create a note, take a picture, make a voice memo or record a video – all tied to the lead.
Exhibitors, attendees, and planners all have expectations when it comes to networking and relationship building at events. Providing proven and efficient lead capture technology that improves their event experience and makes them more productive is essential. Raise the profile of your event with effective lead retrieval, and you'll do more than meet the expectations of attendees and exhibitors – you'll knock their socks off!
If you'd like to learn more about lead retrieval or how we can help with your next event, get in touch with us here.
Happy event planning,
Team GTR™ 👋
Subscribe here to get our latest articles.