The Ultimate Virtual Event Timeline
Sometimes it feels like however early you begin your planning, there's still a time crunch a few days before the kickoff of your big event. Deadlines are missed, a speaker backs out, and you forgot to send that one confirmation email to attendees. With 25 years of experience helping event planners pull off in-person and virtual events, we've truly seen it all.
So, in the spirit of sharing some industry secrets, we've created a timeline for your next virtual event. Think of it as your ultimate virtual event planning checklist! Whether you are planning the tenth anniversary of your event, or piloting something new this year, optimize your planning process. Future you will thank you!
How to Plan Your Virtual Event
We made this into a handy graphic you can share with your team: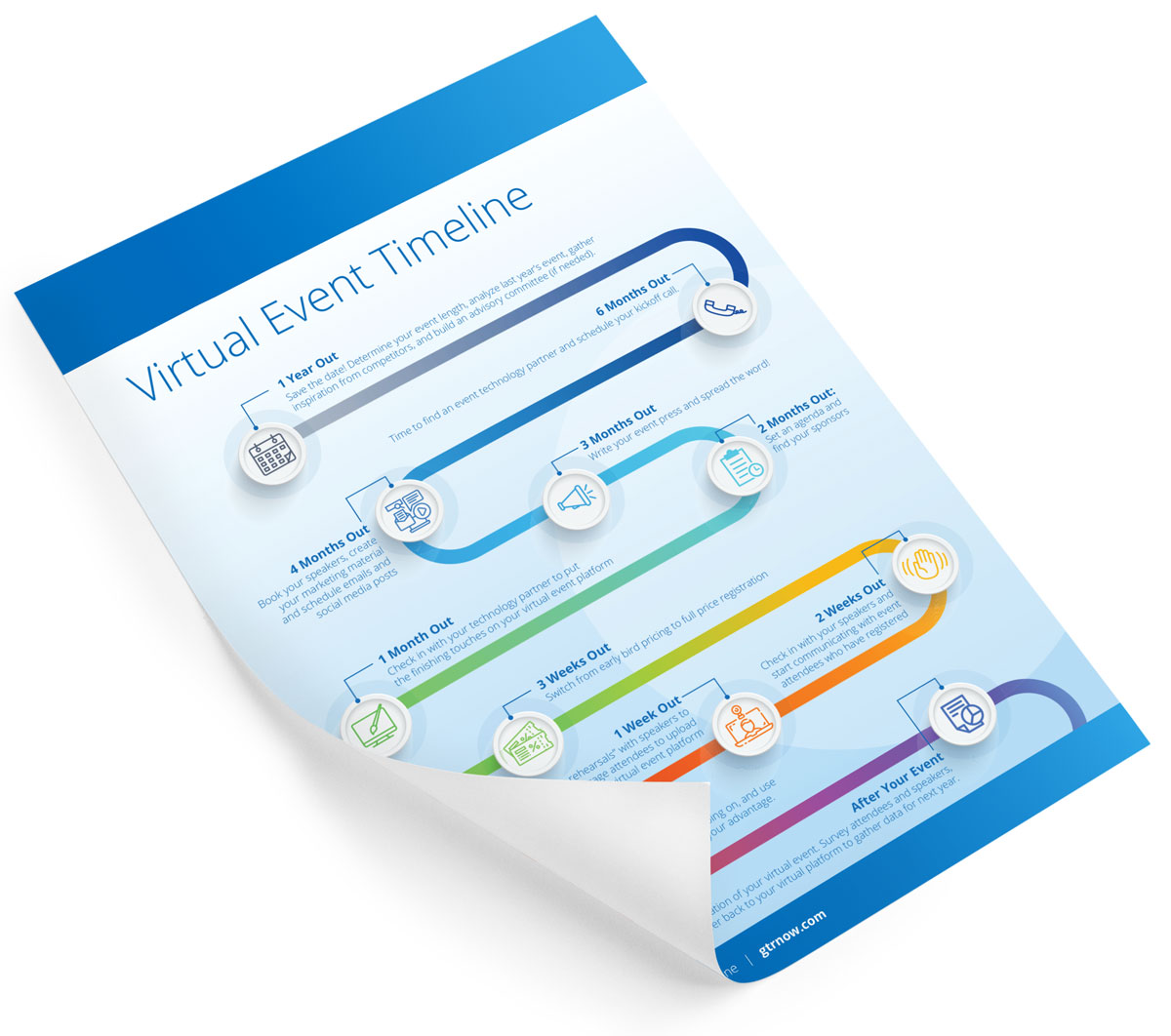 1 Year Out:
Save the date
Time to start your event: set the date, and determine how many days your event will last. Not your first time running this event? Analyze last year's data. Trying something new? Look at other events branding, marketing, schedule, speakers, and sponsors to benchmark against.
Many events have an advisory panel or event committee behind them. Consider combining your brainpower with experts who can help you organize the event.
6 Months Out:
Kickoff with your partner
Time to find an event technology partner and schedule your kickoff call. Look for a partner that offers you real-person support and troubleshooting, along with an intuitive platform that your users will love. Ok, we're a little biased but here is our recommendation!
4 Months Out:
Start promoting
Contact and book your speakers! Do this far in advance so you can advertise them as part of your event promotion.
Speaking of promotion, now is a great time to start creating your marketing material. Make sure your event's graphics have a cohesive brand look and feel. Don't have a marketing team on-hand? Platforms like Canva or Colorcinch are helpful for the DIY graphic designer. Plan out the next few months of social media and email marketing now so you're not scrambling for content later. Use platforms like Mailchimp and Sprout Social to schedule these in advance.
3 Months Out:
Spread the word
Write your event press release and spread the word! Keep a running list of your industry press, and find publications with event calendars to join.
2 Months Out:
Set an agenda
Solidify your event's agenda by planning out sessions and speakers. Remember to leave time in the schedule for small group break-outs, fun social sessions (like a virtual cocktail party), or time for attendees to meet one-on-one after a busy virtual tradeshow.
Now that you have your agenda set, monetize your sponsorship packages by identifying where to advertise gold level sponsors. Not sure how to organize sponsorships for a virtual event?
Download Our Virtual Event Sponsorship Guide
Once you've developed your sponsorship packages – go get 'em! If you are coming up short on industry-specific sponsors, use your event's audience for which sponsors to source. For example, if your event is based around climate change, try targeting sponsors who have eco-conscious values that will resonate with your attendees. Still stuck? Use online tools like SponEasy or Sponsor My Event.
1 Month Out:
Get your tech in order
Platform development. Just like securing a ballroom for a conference, getting your virtual event platform just right is the key to a smooth virtual event. At GTR, we work with our clients from kickoff to get event platforms built, customized, and polished. Now is a great time for any final additions and tweaks to your virtual event platform.
Send speakers expectations with information on how to set up any technology or pre-recordings. If you have moderators, remind them to get their discussion guides written for their panelists.
3 Weeks Out:
Go full-price
Every event is different, but if you've been offering early-bird pricing, now is the time to end it and go into full-priced registration mode. Without the need for travel, virtual event attendees are more likely to register at the last minute.
2 Weeks Out:
Check-in with speakers
Remind your panel moderators to share their questions with panelists so they are prepared for a healthy conversation. Check-in with event speakers, sponsors, and vendors. Now is the time to communicate with event attendees as well. Send teasers via email to let them know they are top of mind.
1 Week Out:
Dress rehearsals
Schedule mini dress rehearsals for your speakers. Take 15 to 30 minutes to orient the speaker and test tech. If your event technology partner is as cool as we are (wink, wink) they will do a lot of the troubleshooting here!
Encourage your attendees to upload their information, schedule meetings, and organize their agenda before the event for a more productive experience. If you have a complex virtual event with tons of sessions, break-outs, a tradeshow, or more, give your attendees a sneak peek at how to use your virtual event platform. Sundance Film Festival made their own video to help their attendees navigate the switch from in-person to virtual this year.
Day Of:
👀Monitor!
Enjoy your event – but don't relax just yet! Take this time to monitor what's going on, and use the flexibility of virtual events to your advantage. Send attendees daily recap emails, follow up with speakers who crushed their session, document which sessions had low attendance, or plan an encore session if an audience had too many questions for a Q&A session.
🍾 After:
Evaluate & analyze
Run a full evaluation of your virtual event. Target attendees and speakers with a survey. Select a few attendees and call them to get feedback, while offering an incentive like free registration for next year. With their permission, collect quotes to use in next year's marketing.
On the back end, use the power of your virtual platform to gather some important data points:
Number of Attendees

Social Media Reach

Leads Captured

Clicks on Sponsored Ads & Logos

Tradeshow Booths Visited

Presentation Downloads

Attendee Engagement

Survey Results

Downloads after the Event Ends
Subscribe here to get our latest articles.