Q&A: Returning to In-Person Events with Our Site Selection Expert
For over 25 years, Trish Ara, CMP, CTC has helped event planners find the right venue for their event.
A lot was different back in 1996 when we first launched GTR™ Event Technology. But even early on, we helped event planners choose the right venue for their event. When Team Member 001 joined, she used her secret powers to help planners with site selection and contract negotiations.
Trish is our Employee 001. Like James Bond, she gets the job done – in her case, helping clients select locations to hold the most remarkable events. Trish spoke with us about the current state of site selection, venue management, and which venues she's most excited about visiting again as we return to in-person events.
What are you most excited about when we return to venues?
Trish: The excitement of actually going on-site and watching the event come to fruition. I like to be in the middle of it and actually to see all the pieces come together and see how it all just flows. And to watch the client be very happy at the end of the day.
With COVID-19 concerns still being a factor, what are the key elements to choosing a venue with this in mind?
Trish: It's important to verify that the hotel staff has their COVID-19 protocols in place. Also, check the city you're going to and see what local + state regulations they have.
It's going to sound weird, but air ventilation is so important. You need to know how the hotel processes its air to get clear air like the airlines.
If a client is looking to do a hybrid event, they will need enough bandwidth to handle both in-person and virtual elements. Some hotels are transforming some of their meeting space into recording studios. That's a hook for people to go to their property because they're well-prepared for hybrid event production.
What are some other things you see changing as we return to in-person events?
Trish: Having a lot of outdoor areas helps with meals and how those are served. And large bathrooms – you have to rethink your agenda. You can't have a 15-minute bathroom break anymore.
With virtual, you talk about white space [or down time] to go to the bathroom or get something to eat. With face-to-face events, you really have to look at your schedule and plan enough time for breaks to move around. You're going to need enough time to get from one place to another.
What should event planners look for aside from great WiFi and sound studios if they want to run a hybrid event?
Trish: I think of hybrid events like sporting events. If you're watching live, you have one experience. If you're at home, you have an announcer and another experience.
You need two events teams for conferences, one handling the virtual part and one running the on-site element. You've got double the production, so your budget can potentially go out the window.
Alternatively, you could do the face-to-face event, and after that, you have your speakers go to a sound studio and tape their sessions. Then, you can hold the virtual event a week later with these recordings. You only need one team and one production company at one time. It could also help your budget if you hybrid events piecemeal like this.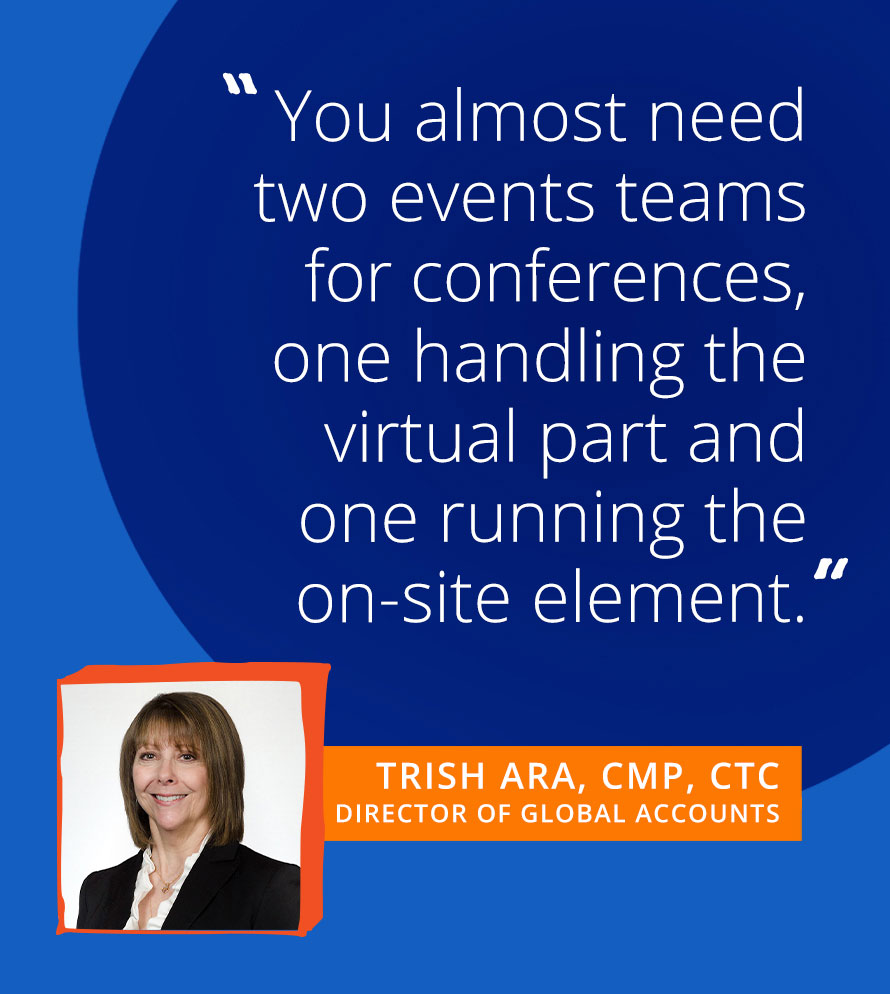 What do you predict will remain from our COVID-19 precautions as we move back to in-person events?
Trish: I think you'll see the hotels will continue to clean better now. They have hand sanitizer stations all over the place. Probably, everybody will be more aware.
With food service, we'll see! Some hotels brought buffets back for now, but the hotel staff serves. You don't serve yourself. That will probably remain for a while just to see how it goes.
Do you see seating being more socially distant?
Trish: It's definitely gotten better. Initially, during the hot and heavy COVID-19, it was one person per six-foot table. Now, the hotels are saying, "we're going back to full capacity, but you tell me how to set it up. If you only want 75%, we'll only set for 75%." It depends on the venue and what the client feels comfortable with.
What are new or untraditional venues doing to book events?
Trish: Through 2021, numerous properties are putting in a COVID-19 clause that allows you to cancel basically up to 30 days out and not pay any kind of penalty. They're trying to get people to book and feel comfortable that if they have to cancel or move, they won't have to pay out of pocket to move the event or cancel.
Have any large national venues gone through any significant renovations since March 2020?
Trish: Arizona Biltmore, Las Vegas Convention Center, Resort World in Las Vegas, Javits Center, and Sheraton San Diego.

What's your favorite venue?
Trish: I love the Hotel Del Coronado.
How early should you start planning site selection?
Trish: 18 to 24 months out. There's a bottleneck in the next couple of years due to COVID-19 cancelations, so the earlier you can start planning your site selection, you'll increase your chances to get in the venue you want.
Looking for a site selection partner who goes above and beyond? Contact us to learn more about ways to help you plan your next in-person, virtual, or hybrid event. Also be sure to check out our Ultimate Hybrid Event Timeline. We made this into a handy planning guide that's ready to download and share with your team!
Subscribe here to get our latest articles.