Designing Smart Virtual Event Sponsorships
In an industry where everything feels like it has changed, event sponsorships feel like they've changed the most. Finding the most compelling package to present to a sponsor (and then booking them) seems to be one of the most stressful parts of event planning today.
You aren't alone. Let's review some of the ways you're probably like most event planners:
Your event sponsorship package grids changed two or three times by December 2020

You wrote and rewrote and rewrote again a major sponsor solicitation 15 to 20 times before sending it

You were pleasantly surprised when sponsors signed on to a unique package that didn't exist in an in-person event
With our experience helping planners host 200+ virtual events since the beginning of COVID-19, we've uncovered new opportunities to monetize sponsorships that aren't possible or obvious for in-person events.
Virtual Event Sponsorship Packages with 💪
Even though events are now virtual, best practices haven't changed when it comes to signing sponsors: Book your sponsors early in the planning process. Offer a mix of marketing, speaking, exclusive, and SWAG opportunities to get in front of attendees at the event. Conduct ways for sponsors to reach out to attendees after the event is done.
And just like in-person events, we suggest building your sponsorship packages with tiers, starting with the most basic and going all the way to the most exclusive. Check out a sample sponsorship tier by downloading our Virtual Event Sponsorship Guide.
Let's review different opportunities to get in front of attendees so you can build your custom sponsorship packages!
Virtual Event Sponsorship Opportunities: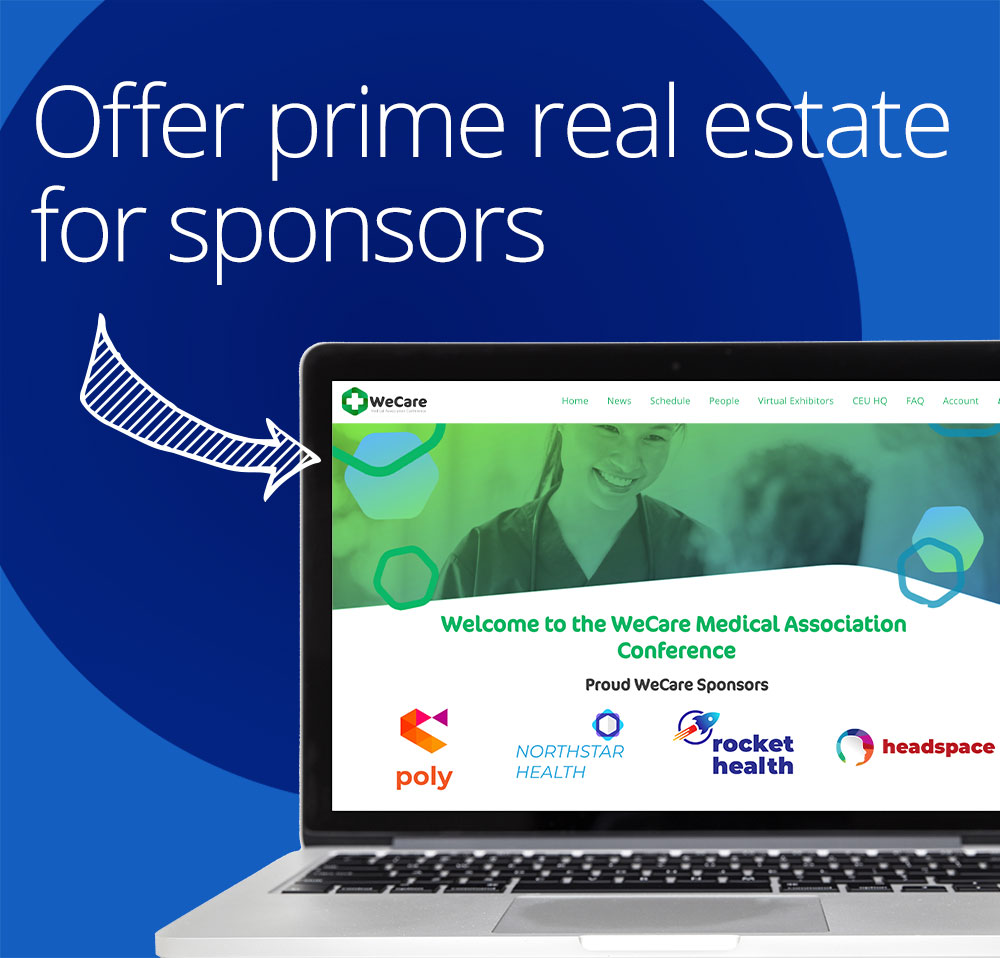 Broadcasting Your Sponsors 📢
Imagine being a sponsor at the event and seeing your brand featured in a custom video background for the keynote speaker, throughout the virtual event platform in banner ads, and at an interactive tradeshow booth.
This is all possible on our virtual event platform. Put sponsor brands on the event homepage, banner ads throughout the platform, virtual tradeshow room, and the log-in page.
Thought Leadership for Sponsors
Sponsors can also get in front of attendees by introducing keynotes or speakers. These introductions can easily be recorded and uploaded before the live session. If the sponsor is supporting many sessions, encourage them to reach out to multiple team members to record introductions so that attendees don't see the same one over and over again.
You can also offer conversations facilitated by representatives from your sponsor. These sponsored sessions can be added to the conference agenda so all attendees can see them or be positioned as a bonus for higher-level registration types.
Skip the Walking with Virtual Tradeshows
Virtual tradeshows allow attendees laser-focused visits to virtual tradeshow booths and the ability to schedule one-on-one meetings (all while avoiding the crowds of a convention center!) Get a birds-eye view of who is in the room – something we could only dream about as in-person conference attendees.
Sponsors can have premium placement, larger virtual booths, and other features that get them more exposure in the "room."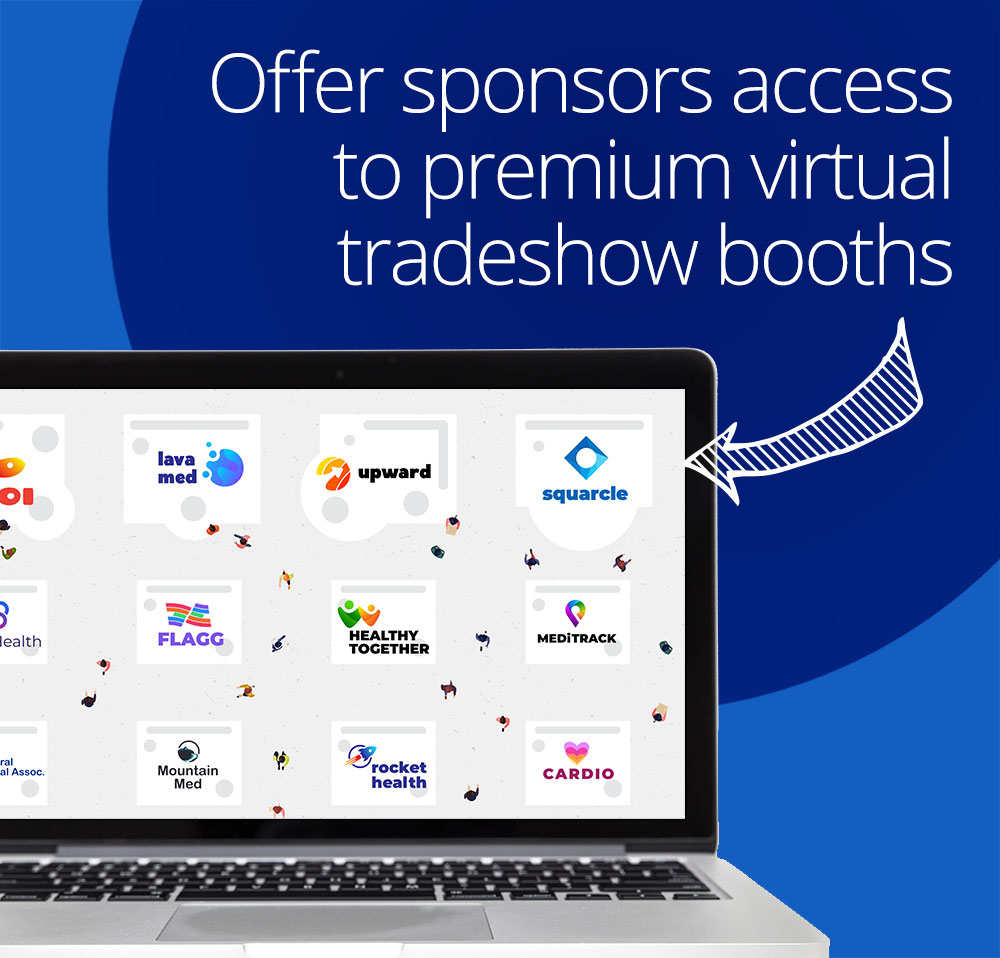 Unique Exclusive Opportunities
This is where event planners shine: brainstorming unique sponsorship opportunities. Think about ways your attendees get excited as a community. Are they passionate about a t-shirt design competition? Do alumni groups have receptions at night? Think about how you can incorporate sponsors into these conference traditions to keep them alive in a virtual event.
Some ideas we have?
Sponsored push notifications

Having one event sponsor "take-over" the event (priced accordingly)

Sponsored SWAG gift boxes sent to attendees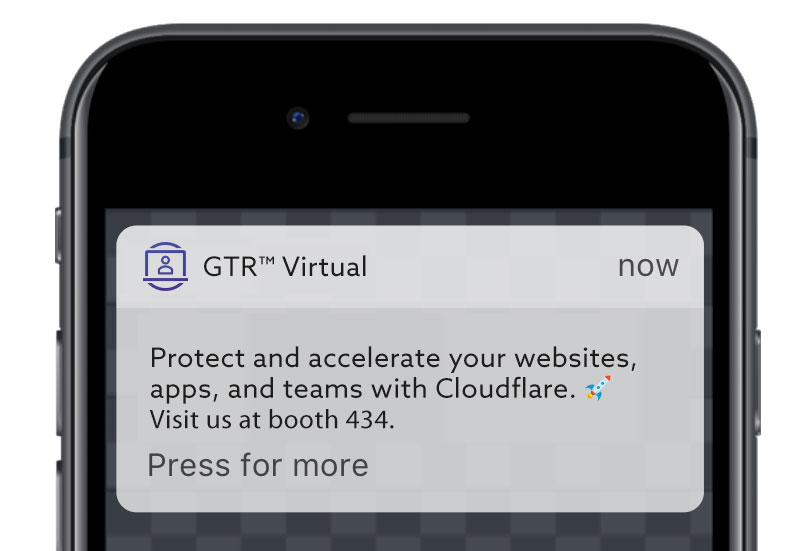 Event Debrief
In your event evaluations, you may find that attendees still are hungry for information. If you weren't able to address a specific need during the event, no problem! Sign on a sponsor for a webinar or virtual workshop illuminating a topic that was raised in evaluations, discussions, or break-out groups. Sponsorship for an event on a popular topic could be very valuable, especially if the audience is extremely targeted.
Learning for Next Time
Virtual event platforms are built to measure. Remember one of your first assignments as an event planning intern – counting attendees? That's automated in virtual events!
Event planners, associations, non-profit organizations, businesses, and educational institutions are now able to provide sponsors with rich customer data. This information can lead to better opportunities for premium relationship building over time.
Next year when you update that sponsorship grid, use data to make informed decisions and prove ROI to sponsors. Here are just a few metrics you can measure:
Number of Attendees

Social Media Reach

Leads Captured

Clicks on Sponsored Ads & Logos

Tradeshow Booths Visited

Presentation Downloads

Attendee Engagement

Survey Results

Downloads after the Event Ends
Keep Innovating!
As you can see, monetizing virtual sponsorships offers a rich opportunity for out-of-the-box thinking. Want to talk to people who thrive on helping event planners and organizations gain financial rewards from virtual events? We'd love to help.
Regards, Team GTR™ 👋
Subscribe here to get our latest articles.