How to Charge for Content Before, During and After Your Virtual Event
Do you remember how much work it used to take to record a keynote speaker? We remember attending conferences that felt like a full TV studio and others where interns recorded from a camera on a tripod. And how many times were those conference recordings left on an SD card somewhere and never uploaded?
Virtual events have made one thing a whole lot simpler: recording and sharing conference content!
With a simple click of a button, everything from a webinar to a full conference can be recorded, uploaded and available to attendees.
How do event planners turn this innovation into an income opportunity? We know that event profitability is on your mind – a poll conducted last June by our friends at EventMB found many event professionals struggling to pivot into profitability with only 25% in the black. However, the same study reported that 7% exceeded their original expectations based on in-person events.

We have a few ideas…
Before Your Event
Exclusive Preview Content
Getting people to commit early (aside from early-bird registration) is always a challenge for event planners. Consider using content to help you get a steady stream of registrations earlier. With a conference pass, you can grant access to preview webinars or a signed copy of a keynote speaker's book. Conference attendees will get a jump start on thinking about the annual conference topic, making conversations and interactions at the conference even more meaningful to them.
Start with Swag
Swag is such an essential part of the event experience due to its ability to extend the life of the event long after it's over. Virtual event swag is no different. In addition to sponsored gift cards and the like, it's a good practice to bundle exclusive content with your swag. Think about what content sponsors or speakers could add to physical or virtual swag bags: Access to a journal article? Webinar to explain a new publicly-available data set? Offer special content packages to VIP attendees to help get those high-level registration types sold out quickly.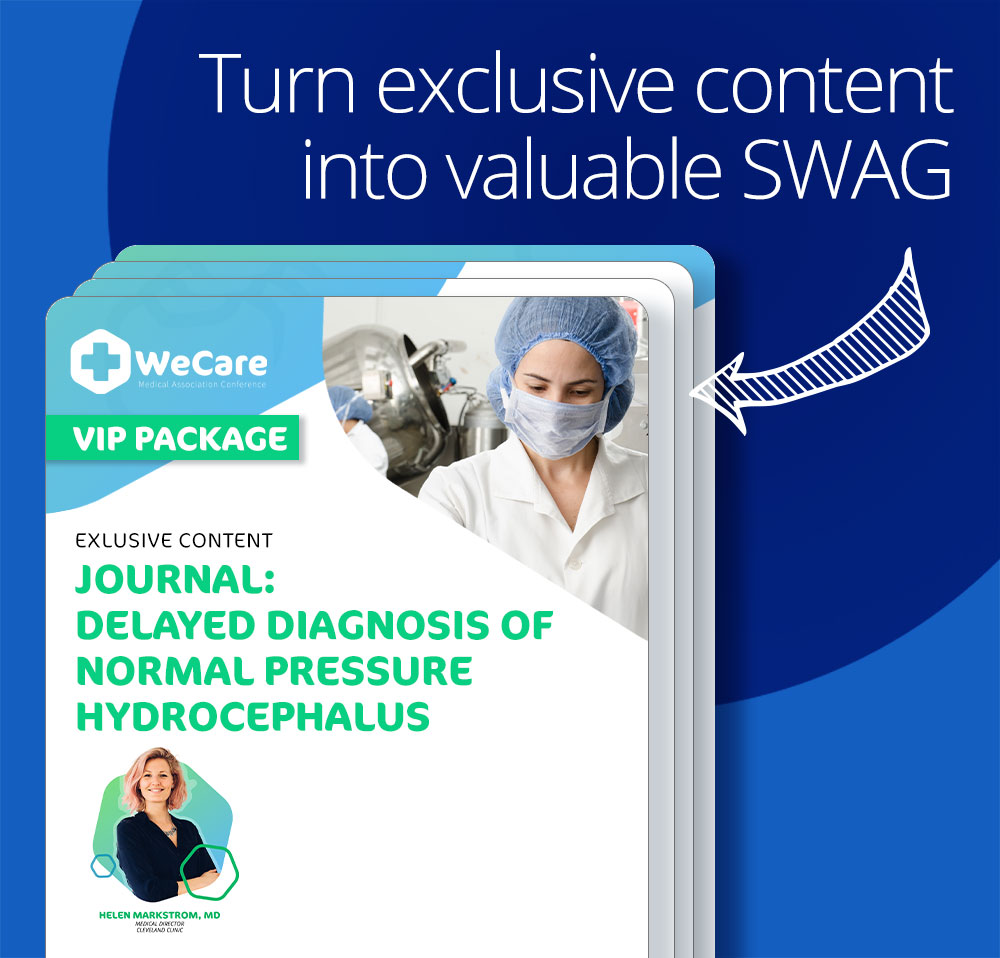 Sell Subscriptions
Can you apply a subscription model to virtual events this year? Subscriptions are typically seen as a pricing strategy, but we're thinking of their opportunity to create a community attracted to exclusive content. Traditionally, subscribers have had exclusive or early access to events, getting them closer to the top players in the field. By organizing your slate of events early in the year, you can create a pricing structure to maximize subscribers. Give your subscribers exclusive perks like special events or a newsletter.
During Your Event
On-Demand Recordings
Scheduling issues can make it impossible for everyone to see every segment of an event live. A great way to further monetize your content during your event and after is to offer these segments on demand. Charge for a self-serve portal where attendees access conference content or download it.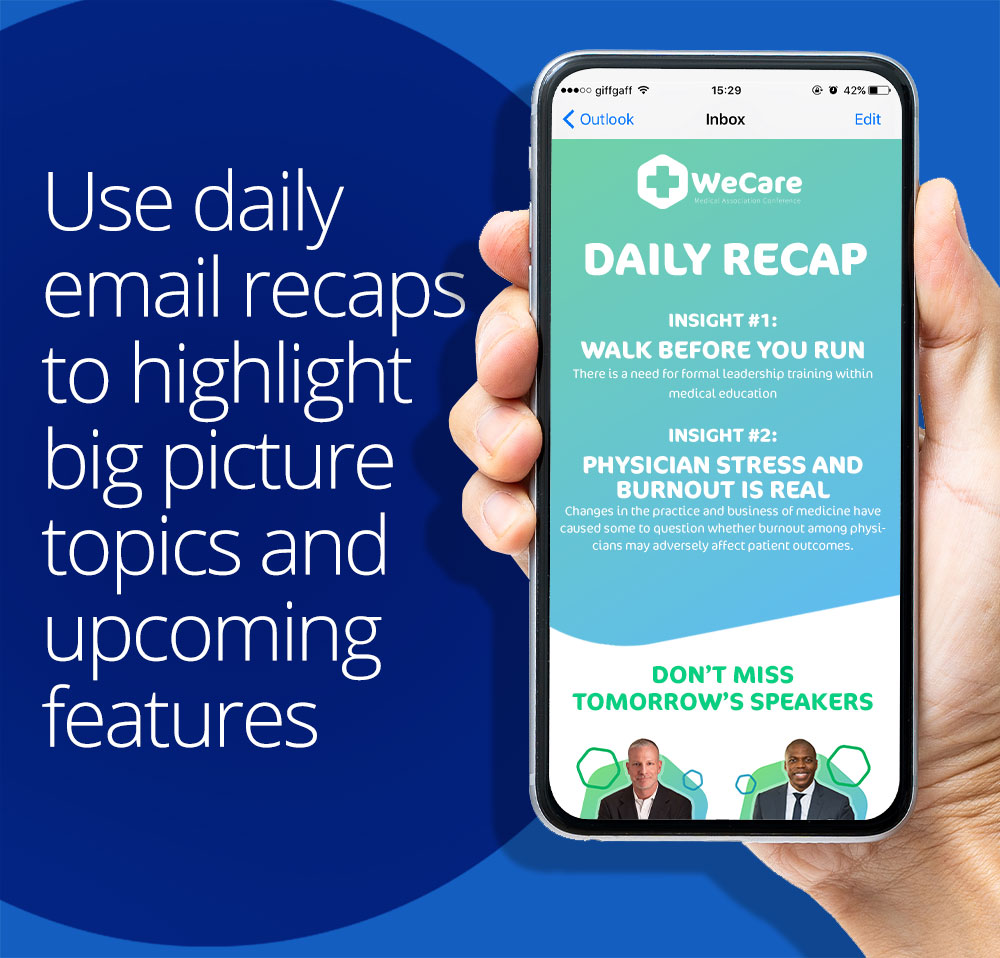 Daily Recap Emails
Attendees hop on, hop off, and watch sessions on their own time – it's a natural behavior at a virtual event. Keep attendees engaged by sending an organizer compiled daily recap email that hits their inbox at the end of each day. Give them a flavor of what they may have missed and what to expect tomorrow. Email recaps can be a great opportunity for sponsors and a great use of your emcee's voice – especially when they aren't getting the facetime like they are used to at an in-person event.
After Your Event
Make Content On Demand
Now is the time to make sure all those recordings of your live event are uploaded and available to your attendees who paid for access. Use our virtual event platform after your event is completed: attendees will be able to access content, reach out to a conference representative, contact a favorite sponsor, or revisit the directory. Be sure to remind attendees of these benefits with a simple email.
Build a Community
Using content to bring people together throughout the year can help foster a sense of community. In some ways, your conference can be the kickoff of a great community of like-minded people! Consider hosting monthly webinars and exclusive events. Facilitate small group chats between members with similar interests throughout the year. This will also help get the word out about registration for your next conference.
Repurposing Content for Paid Products
Many topics can be covered at conferences and webinars that are of interest to others outside of the intended field. A resourceful planner can further monetize that content by bundling the recordings with transcripts and turning them into stand alone informational products. These can then be sold to your attendees or completely outside your membership.
We believe that recording and sharing conference content is one aspect of virtual events that will stick when we pivot back to in-person. Good practices around the monetization of your digital content will be a major revenue generator for the foreseeable future.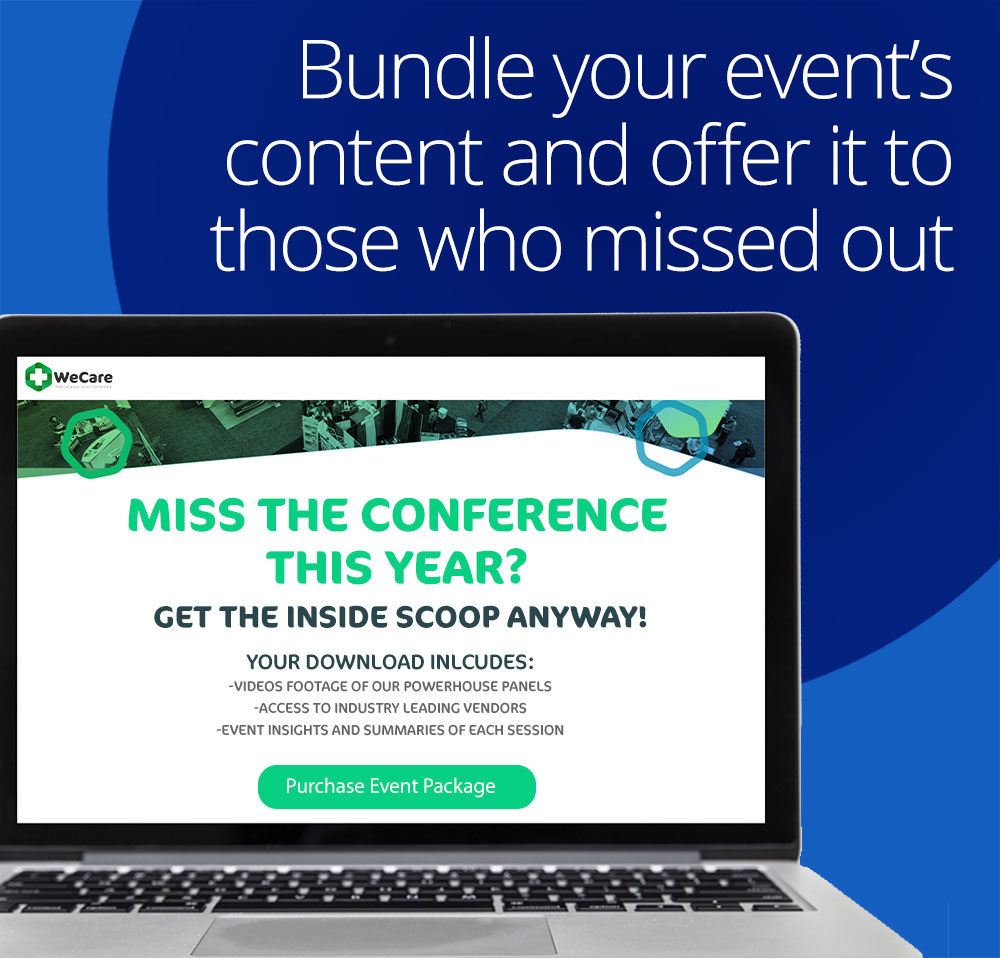 We have more ideas about how to help bring in additional revenue with your content so contact us today.
Regards, Team GTR™ 👋
Subscribe here to get our latest articles.