Marketing Your Event: Before, During and After Registration
What can you do to make sure in-person events and virtual events are successful? What are the best ways to use event marketing and conference marketing to drive registration and keep people engaged with your event?
The answer is… there's LOTS you can do! But let's begin with two overall pieces of advice.
First, recognize that marketing takes place before, during, and after your event. Your marketing goes far beyond just promoting event registration. You can also use marketing to continue the dialogue with your attendees, build relationships, and prepare for the next conference, workshop, or other events.
Second, recognize that people get information from many places and that many platforms are very noisy and saturated. Repetition and using multiple marketing channels are important to build awareness and help prospects decide to participate in your event.
Here are a few tactics to consider for successful event marketing:
Create Engaging Event Pages
Promotion begins and ends with an event page or website. These are some questions to ask yourself to make sure your page is compelling enough to drive registration before your event.
Have you included the benefits of the event in your description?

Have you made it clear who should attend and why?

Are logistics easy to understand – when, where, and how to register?

Have you included endorsements from people outside your organization or from past events?

Do you have interesting photos or images on the page?

Do you have links to key speakers and their bios?

Do you have links to an agenda?

Is your page optimized for search engines?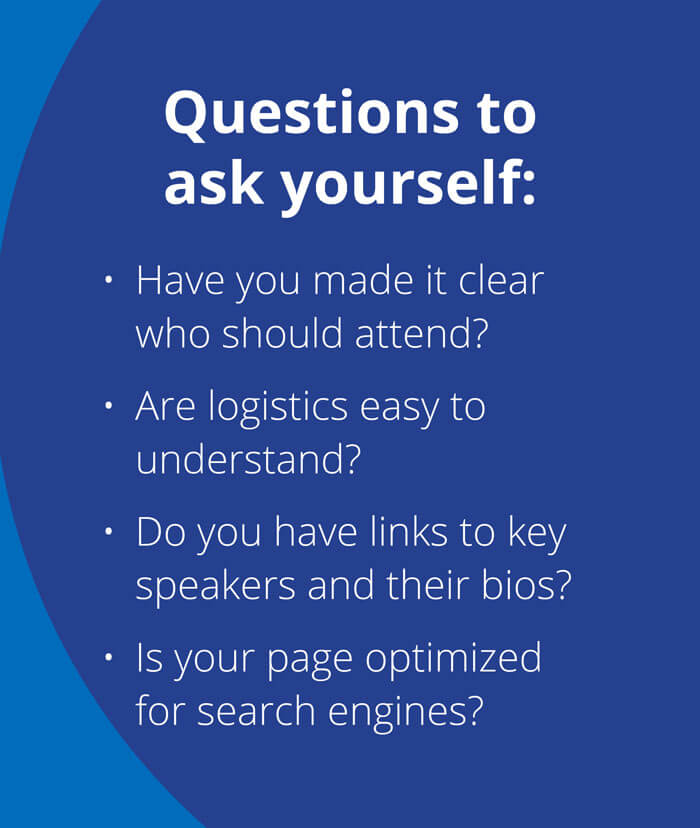 During the event, you can use your page to spotlight special insights from keynotes or workshops, post photos of participants, hold contests. and even run polls. After the event, you can showcase highlights, provide additional content, and let people know about future events.
Employ Email Campaigns
Think of your email strategy in terms of an email campaign, not just a single email. You can plan to send event marketing emails several times. For example, you can start out with a save-the-date email that engages curiosity. Then move on to more detail with a compelling description and logistics. Include third-party endorsements or quotes from people who attended previous events.
Here are a few tips to consider for your next event:
For all of your emails, pay special attention to your list and subject lines. Consider segmenting the list and making it more customized to certain audiences.

For subject lines, make sure to include some emotion versus only a simple description of the event. A little emotion (and an emoji!) in a subject line leads to higher open rates.

Make sure your call-to-action button is prominent and you may also want to entice people with a pre-registration discount. If you do offer an early bird offer, send an email just before the discount ends, and you can send more email reminders as the event approaches.

As the event gets closer, use curated content. Think in terms of interesting videos and links to the speakers. Utilizing very short interview clips from speakers about why they are talking at your event can prove effective.
During the event, your morning email can remind people about the schedule for the day and reiterate the event hashtag they can use throughout the event. It's a handy way for the attendees to have a simple reference to all of the key details.
Once the event is over, you can still use emails to keep the event top of mind! Add more content that is exclusive to attendees and urge people to continue the dialogue on social media. Make sure you always keep the content of your emails highly useful and informative. And we know we say this a lot but don't forget to link your emails to post-event blog posts and surveys!
Here are a few examples to consider for your next email campaign: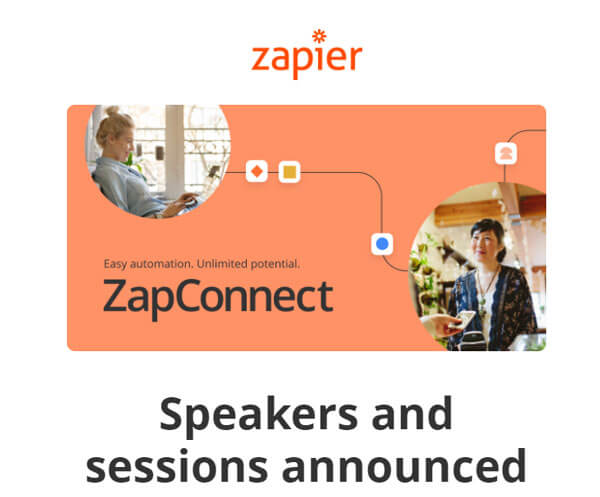 Announcing Sessions & Speakers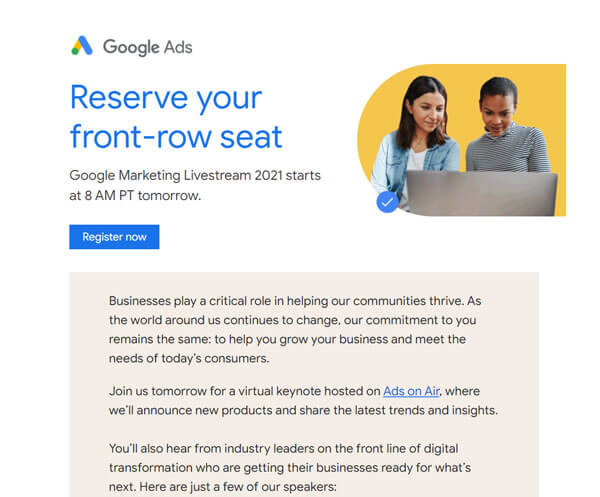 Reminder & Speaker Promotion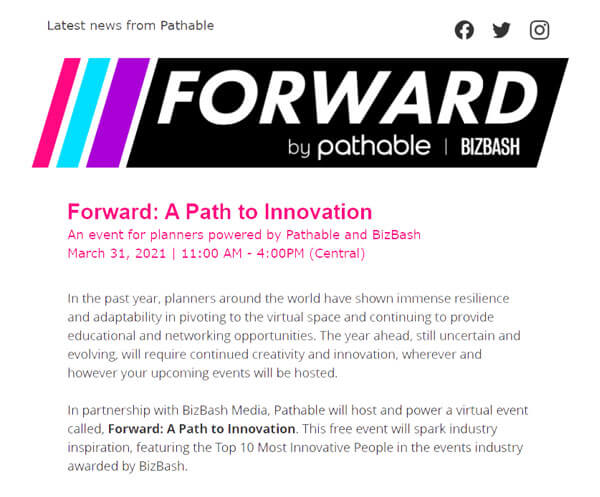 Invitation & Schedule at a Glance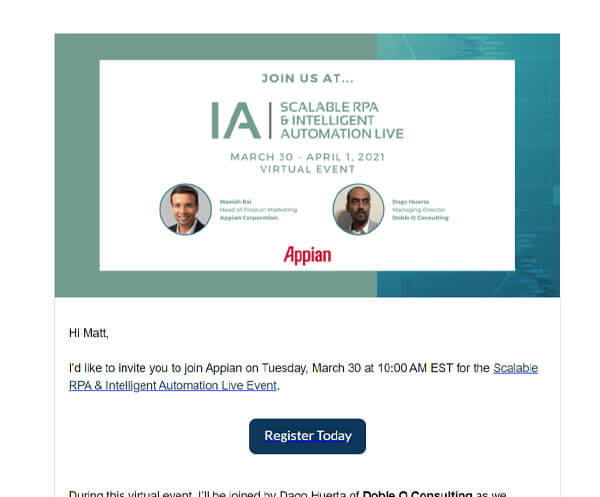 Virtual Invite Promoting Speakers
Social media is also a key component of event marketing, but you need to recognize that, unlike email, it is fleeting. LinkedIn, Instagram, TikTok, Facebook, and Twitter flow through your audience's social streams. So, be careful about using them exclusively to share important and time-relevant information to targets and registrants.
Create a social media strategy and calendar for your event and make sure you focus on the social media channels that are most used by your audience. Then, if you want to turn things up a notch, you can add one or two new platforms to test! Make sure you vary your social media content with event information, thank you's to sponsors, and highlights of the speakers.
Respond to comments on social media and consider following people who begin following you.

Always ask people to spread the word, too! The power of social media happens when others are reposting your information with their recommendation.

Make sure you have great images to use on social media. If you have graphics or a logo for the event, use them frequently.

Don't shy away from humor or poignancy. Like email subject lines, emotion is important in social media, particularly in images.
During the event, keep up the posts and incentivize your attendees to do the same. You could hold a contest for the most tweets or select an Instagram image or TikTok video that you love and give a prize to the person that posted it. You want to have a specific strategy for your approach to social media and you don't want to bombard people with boring, irrelevant, or self-serving content after the event (because that would be uncool).
Work with your Speakers, Partners and Sponsors
In addition to speakers, your partners and sponsors are important parts of marketing your event. The trick to getting them involved is to make it easy. Create a promotion package for them that includes social media posts they can share, emails they can customize, logos, photos, and a press release. Make all the content as much about them as you do about your organization or event.
Actively build relationships with your speakers, sponsors and partners by inviting them out for a pre-conference dinner or having a virtual get-together. The more cohesive they are and dedicated to the success of your event, the more they will promote it and follow up with attendees afterward.
Another idea is to create a unique promotion code for each partner and speaker to use when they promote the event to people in their network. A unique promotion code lets you track how they are promoting the event and you can also incentivize them by giving them a referral fee based on how many people they register.
Don't Forget Public Relations
Make sure you include public relations as part of your marketing! Submit your event to local news outlets and industry associations. Be sure to directly invite media to attend your event and it may be worth comping their ticket in hopes that they'll be more likely to attend and publish a story afterward.
Pro tip: You can also invite local media personalities and writers to serve as a session moderator or interviewer.
Make sure any press release you write contains information on the benefit of the event to potential attendees. If you can, tie the press release into an issue that is relevant to their readers, listeners or viewers.
There's an arsenal of marketing tactics you can use to market your event. We encourage you to utilize the tips and tricks we've laid out here and if you're looking for some more help, we're here for you. Since 1995, we've provided the conference and tradeshow industry with innovative technologies designed to improve and simplify every event. With unrivaled customer support, global reach, and an eye on innovative technologies, we've powered more than 12,000 events around the world.

Subscribe here to get our latest articles.