Continuing Education


Learning Management System


LMS with CEUs
Understand the flow of your attendees and automate CEU credits, evaluations, certificates, and surveys. Simplify your professional development programs/trainings by automating session tracking and delivering accredited content to maintain licenses and/or certification.
Trusted by Industry Leaders



"This is a platform that works, and the people who support you during the event are AAA+ at customer support, earnestness and problem solving. The BEST all around!"
Brad Inman, Publisher, Inman Media Group
Technology to Support Your Curriculum
Built in features to power your educational and training programs while making your event planning easier.
Display verification codes that learners need to notate to meet license and certification requirements.
Offer a quiz or retention test after the completion of a course to ensure learners have retained key course information.
Offer Interval tests during the on-demand content to keep the learner engaged.
Automatically track the time spent watching and listening to course content.
Provide feedback on both correct and incorrect answers for enhanced learning.
Automatic certificate delivery when all testing and tracking standards have been met.
GTR™ – Since 1995
Events are hard, we make them simple.
Flexible Session Attendance Tracking
Understand the flow of your attendees and automate CEU Credits, Evaluations, Certificates, and Surveys.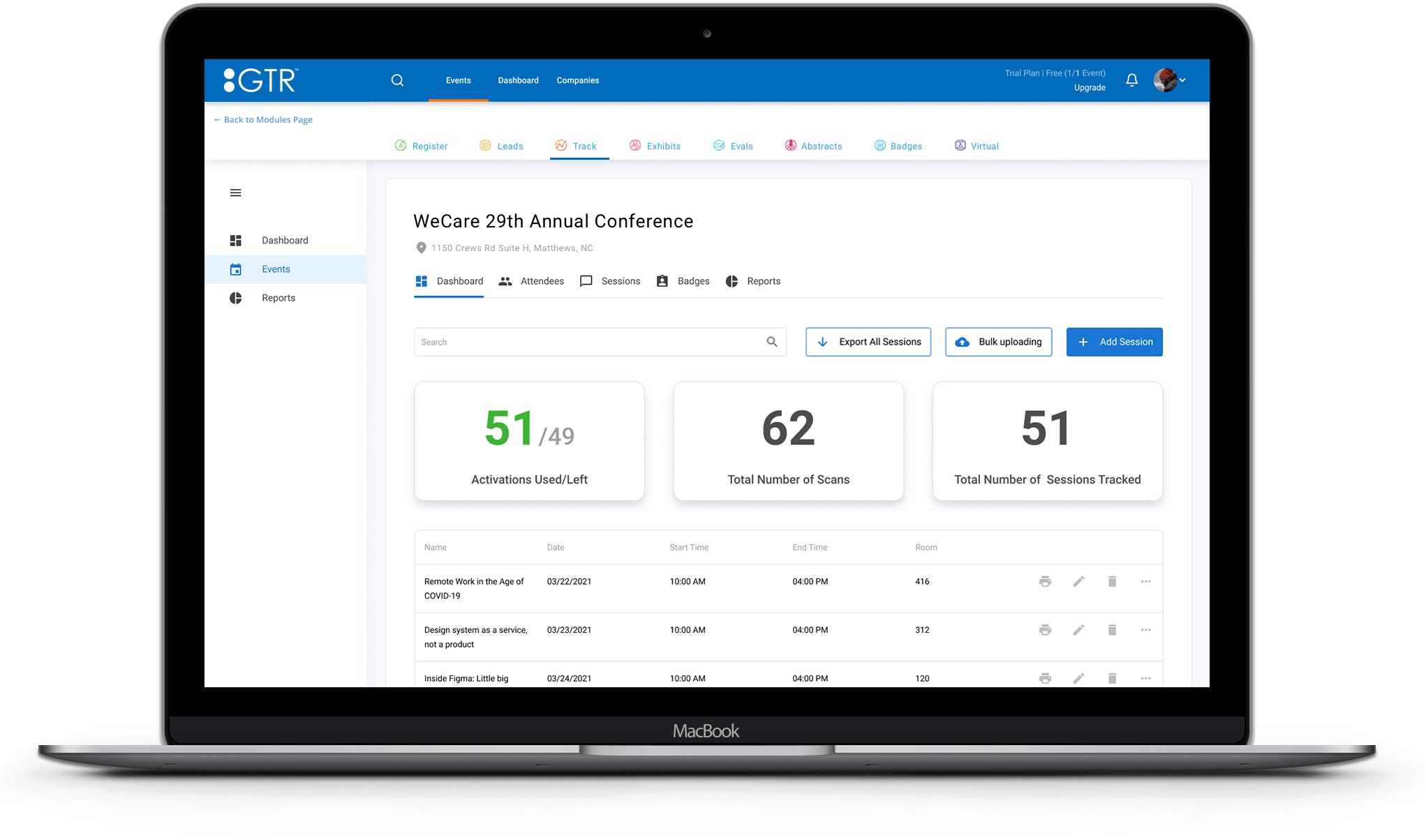 Real-Time Attendance Data

View your session attendance in real-time.
Generate Session Attendance Reports

Generate attendance reports and put your data where you need it.
Understand Attendee Flow

Track your attendee flow by viewing where they were scanned and when.
Flexible Event Technology
Built for conferences, trade-shows, conventions, expos, corporate events, and more.