Inviting Invitations for Events and Conferences
Who doesn't want to receive an amazing invitation and event registration confirmation? It sends the message that you're going to be attending an amazing event. Let's take a page from the wedding planning community and explore ways to take event and conference invitations to the next level.
Event invitations help people plan for your event, clear their schedule, and prepare. They help remove uncertainty and eliminate the ambiguity of the unknown.
But what people also need are reminders. Your event registration confirmation should be part of your invitation planning in this world that's full of noise and uncertainty. What are event registration confirmation emails? An event registration confirmation email is a transactional email sent to future attendees after registering for your event. It verifies that an attendee's registration was received and provides critical information about the event.
You may be asking yourself: "Wait, so does that mean I need to send out hundreds or thousands of individual emails to each of my attendees?" Not that many, but yes, sending a few well-timed reminders will help your attendees plan for your event.
We want to map out the process to send inviting invitations and event registration confirmation emails starting with the invitation. You'll want to customize it to fit your internal process and tailor it to the needs of your audience.
Guiding Principles for Event Confirmation Emails:
Use bold text and Emojis 📢 to catch the recipients attention.

Count words: Keep it skimmable and avoid long blocks of text. If you have a lot to say you can break up the text with lists, graphics, and icons.

Keep it Light: You have seconds to earn the recipients attention. Don't overload them with too much information right off the bat.

It's about them: remember to keep the information focused on them, not on you.

More is better than long: Send more frequent reminders vs. longer emails.

Highlight your brand: From colors and fonts to the logo and voice, make sure your brand concept is evident in every email you send.
Step 1. Establish Your Event Branding and Tone
Is your conference focused on blue sky brainstorming or a serious, contemplative topic? Make sure you've established the correct tone for your event. Attendees don't like to be surprised when they get to an event. Establishing the tone in your invitations helps to set expectations and reduces misunderstandings about the general feel for what they should expect.
Need help? Here's a rundown on how to define your brand tone of voice.
Step 2. Map out Your Invitations + Confirmation Emails
Creating a plan for communications will make it easier to write content and see if and when you're hitting all the right points. Your plan will become a strategy itself – you'll be able to visually see how often you want to email people and you can drip out critical messages slowly so attendees don't feel overwhelmed with information.
What's the magic number of confirmation emails? We'd argue that it's more important to plan the timing of confirmations rather than the number of emails.
Sample Email Timeline: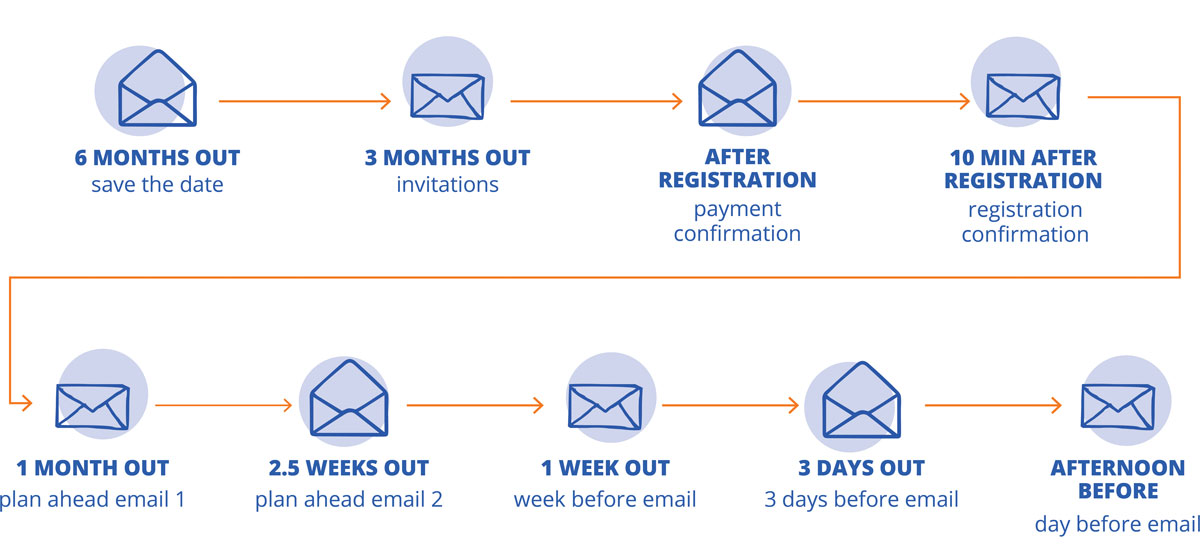 Step 3. Design and Write!
You'll map out the invitation and confirmation email plan long before the event details are confirmed. Make sure that your Save the Date has consistent event branding with what's coming up, but don't worry about the content after that until you send out the invitation. What you will want to do is write your event registration and planning emails in a batch.
We'd suggest writing all your "plan ahead" emails together so you can be strategic on what directions you're sharing at what points.
As always, branding is crucial. Include visuals, such as your event's logo, as well as a featured image that captures the event's ambiance and branding style. Personalize your emails: we don't reccomend using the stock design provided by your email or marketing automation platform unless it can be properly customized to your event brand.
You'll also want to include the event basics in the footer as a simple reference. This information can include the event name, date, location, and reference number in all emails.
What makes for an effective event invitation? FUN (if that's your vibe). In most scenarios you want to focus on showing the value of your event to encourage them to want to learn more about it. Get inspired with these event / conference / trade show invitations from Really Good Emails.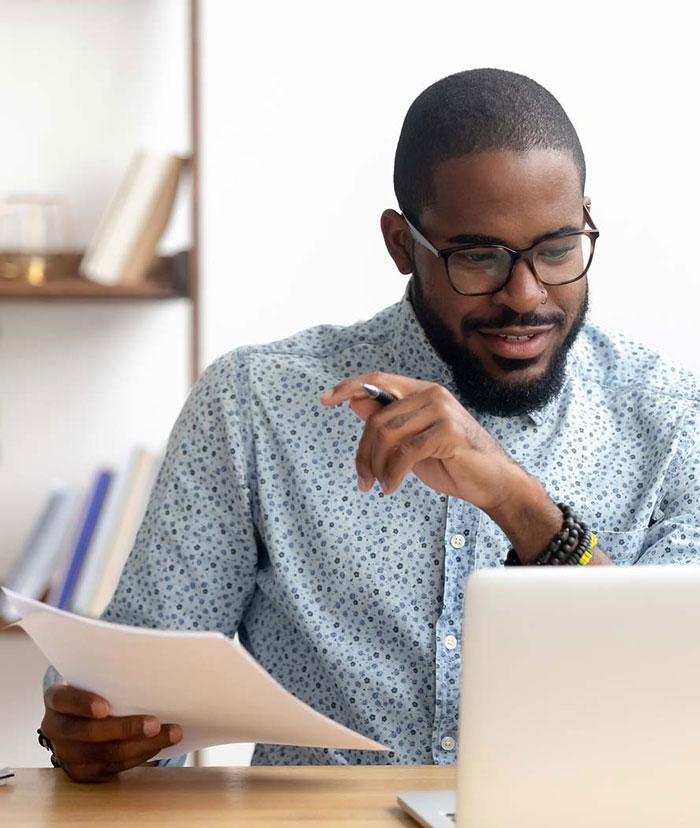 What makes for an effective event registration confirmation email?
Simplicity

Provides sufficient information

Pushes the attendee to take action

Gives the attendee a post-registration reassurance and confidence

Confirms their registration was successful and accepted

Leads the attendee to what they should do next

Confirms when and where the event is and what should be expected
Step 4. Mirror Email Information on Your Event Website
Writing your event registration confirmation emails will also help you plan content for your event website. You'll want to include critical information like the agenda, logistics, travel and virtual platform information on your event website. Attendees may not have access to their email or will go directly to your website for critical information you're putting in the emails, so it's a good idea to organize the Need to Know info in one easy-to-find place on the web. Well-organized information on your event website will also save you a lot of last-minute questions!
Step 5. Program and Enhance Your Emails
Be creative with your content!
Think outside the box for confirmation email subject lines that will stand out

Link to your event website for further details on the topic

Include a personalized greeting to increase engagement

Give details about the city – is there anything interesting you could share?

Average temp high

Average temp low

Sunrise time np

Sunset time

Suggested outdoor running routes

Best restaurants in walking distance

Announcement of event or conference activities and where to sign up

Set expectations and share any last-minute updates
Your event confirmation email campaign can also help enhance the confirmation process, like:
Link to the attendee's registration to edit details

Confirm the payment amount that was processed

Give a shareable link to promote the event

Include social media links and the event hashtags

Opt into an email list/newsletter

Sponsor highlights

Add to the calendar link
Step 6. Respond to 1:1 Correspondence
Now that your emails are programmed and ready to go, you can focus on your attendees who contact you directly with questions. Responding to these emails quickly is essential for your brand and event experience. By planning, you'll give yourself the time to focus on these critical interactions with your attendees and in some cases, you'll even be able to include the answers to frequently asked questions on your event website for the next person's benefit.
We're Here to Help
Our online registration platform, GTR Register™ makes creating and scheudling automated emails a cinch. It has never been easier to send beautifully branded emails in bulk.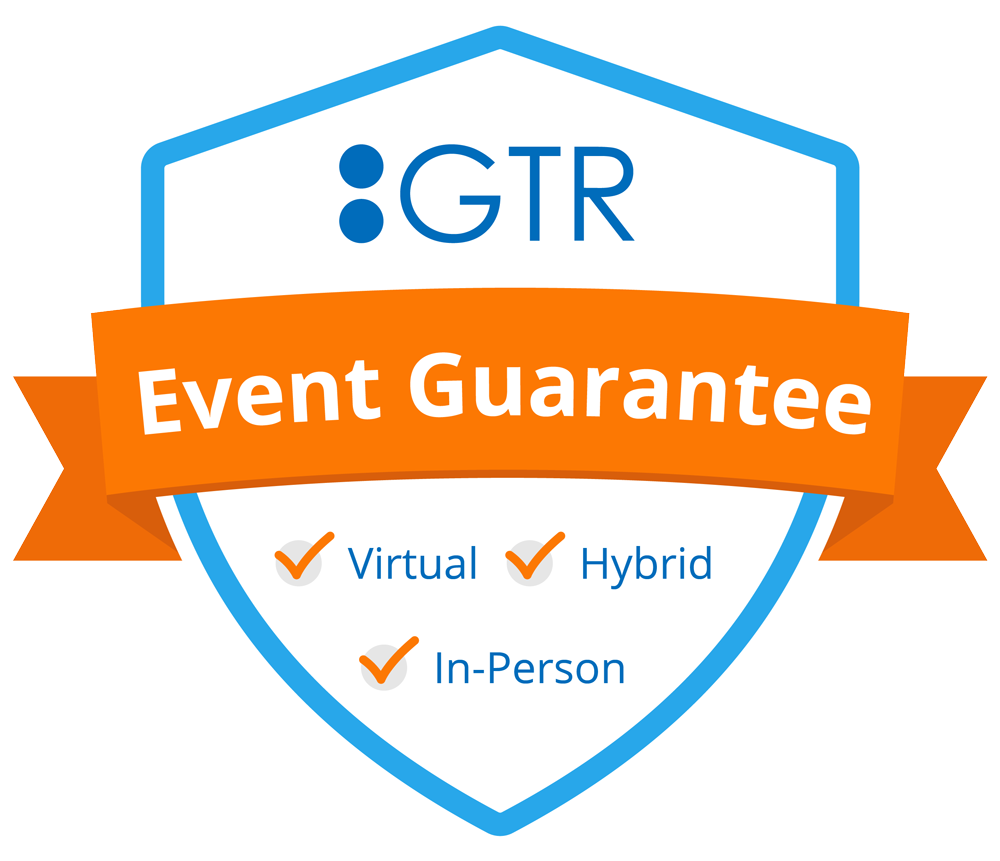 "Wouldn't it be nice to have an event guarantee?"
The pandemic is still playing a role in event planning. What if there was a way to ensure that no matter what format – virtual, hybrid, or in-person – your event technology company could pivot with you? We do exactly that. When you work with us, you get the expertise of 25 years of event production with the flexibility of multiple platforms.
Subscribe here to get our latest articles.