The Ultimate Hybrid Event Timeline
What's that feeling? Is it the gravitational pull of having virtual elements along with your in-person event? Let us introduce the hybrid event timeline to help you out! Just by tweaking your event planning, you can experience the benefits of virtual events by organizing hybrid ones.
Earlier this year, we spilled some of our industry secrets about virtual events. We're doing it again with a new ultimate hybrid event timeline! Think of it as your ultimate hybrid event planning checklist!
Hybrid Event Timeline
18-16 Months Out:
Start searching for a venue and select the date
As we come out of COVID-19, site selection will be crowded for 2021 and 2022. You may not get your ideal spot if you don't start early.
As you search for your site, it's time to start your event planning: set the date and determine how many days your event will last. Not your first time running this event? Analyze the last two years of data. Is it a good time to try something new? Maybe it's time for a fresh new look with your event branding. Check the branding, marketing, schedule, speakers, and sponsors of other events to get inspiration.
Many events have an advisory panel or event committee behind them. Consider combining your brainpower with experts who can help you organize the event.
Frequently Asked Questions
Do I have to decide to go hybrid from the start?
While planning could start without finalizing your event format, once your budget is finalized you need to decide whether to hold a hybrid event or not. While hybrid events don't have to be expensive, they do involve start-up costs. Plan accordingly, and contact us for a free 15 minute consultation to learn more about the costs associated with going hybrid.
What if my event is in less than a year?
Don't stop believing in your event! You can hold an event even if you aren't starting 18-16 months before the date. Combine the site selection and establishing the date as your first step. Be mindful that you may need to be flexible with selecting a venue and scheduling with a tight turnaround.
While planning can begin without finalizing your event format, your budget can't be completed without knowing if you're going all in-person or hybrid.
12-6 Months Out:
Send a save the date
Let your members and past attendees know that the event is happening! Depending on your event and your industry, you could send out your save the date early but we recommend no later than six months before the event. And if you're holding a hybrid event for the first time, your attendees may need some time to consider which one they'll attend. Consider offering early bird rates and any previews you have about the venue or agenda.
6 Months Out:
Kickoff with your partner
Time to find an event technology partner and schedule your kickoff call. Look for a partner that offers you real-person support and troubleshooting, along with an intuitive platform that your users will love. Ok, we're a little biased, but here's our recommendation!
💡 Pro-Tip: Book a Virtual Event Emcee
Like a sporting event, you'll want a play-by-play announcer for your virtual platform. Whether it's someone from your organization or someone you hire to facilitate, they'll need to block out the time. Book them early to ensure you get who you want.
4 Months Out:
Start promoting
Contact and book your speakers! Do this sooner rather than later so you can advertise them as part of your event promotion.
Speaking of promotion, now's a great time to start creating your marketing materials. Make sure your event's graphics have a cohesive brand look and feel. Don't have a marketing team on hand? Platforms like Canva are helpful for the DIY graphic designer.
We also reccomend planning out the next few months of social media and email marketing now so you're not scrambling for content later. Use platforms like Mailchimp and Sprout Social to schedule these in advance.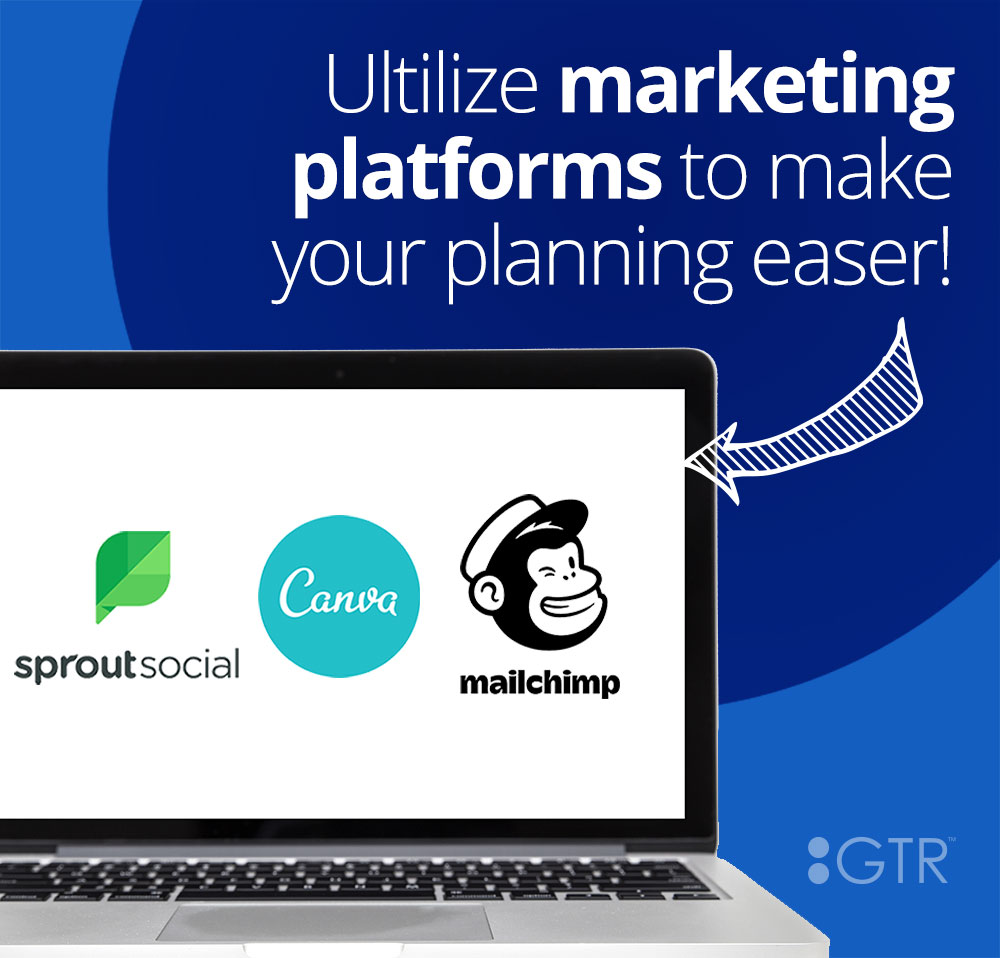 3 Months Out:
Spread the word
Write your event press and spread the word! Keep a running list of your industry press, and categorize which publications have event calendars you can get on. If you have a web developer on hand ask them to add event schema to your website so your event is showcased prominently on search engines.
Send speakers expectations with information on how to set up any technology or pre-recordings. If you have moderators, remind them to get their discussion guides written for their panelists.
2 Months Out:
Set an agenda
Solidify your event's agenda by planning out sessions and speakers. Remember to leave time in the schedule for small group break-outs, fun social sessions (like a hybrid cocktail party), or time for attendees to meet one-on-one after a busy hybrid tradeshow.
Now that you have your agenda set, prep your sponsorship packages with a focus on monetizing your event. Identify the big sessions and tradeshows that gold level sponsors can attach their names to and work your way down from there.
Once you've developed your sponsorship packages – go get those sponsors! If you're coming up short on industry-specific sponsors, use your event's audience to drive which prospective sponsors to reach out to. For example, if your event is based on climate change, it's best to target sponsors who have eco-conscious values that will resonate with your attendees. Still stuck? Use online tools like SponEasy or Sponsor My Event.
1 Month Out:
Get your tech in order
Platform development, just like securing a ballroom for a conference it's crucial to get your hybrid event platform just right so everything runs smooth on the big day. At GTR™, we work with our clients from kickoff to get event platforms built, customized, and polished. Now's a great time for any final additions and tweaks to your hybrid event platform.
Send speakers expectations with information on how to set up any technology or pre-recordings. If you have moderators, introduce them to panelists and remind them to get their discussion guides written for their panelists.
3 Weeks Out:
Go full-price
Every event is different, but if you've been offering early-bird pricing, now's the time to end it and go into full-priced registration mode. Without the need for travel, virtual event attendees for your hybrid events tend to register much closer to the event itself. Don't panic if all the attendees aren't registering months in advance like they used to before COVID-19.
2 Weeks Out:
Check-in with speakers
Remind your panel moderators to share their questions with panelists, so they're prepared for a healthy conversation. Check-in with event speakers, sponsors, and vendors. Now's the time to also start communicating with event attendees who have already registered. Send teasers via email to help them get the most out of the event.
1 Week Out:
Dress rehearsals
This best practice from virtual events will be useful for all of your speakers. Schedule mini dress rehearsals for your speakers. Take 15 to 30 minutes to orient the speaker and test tech, especially for your virtual speakers. If your event technology partner is as cool as we are (wink, wink) they'll do a lot of the troubleshooting here!
Encourage your attendees to upload their information, schedule meetings, and organize their agenda early so they can get the most out of your event. If you've got a complex hybrid event with tons of sessions, break-outs, a tradeshow, or more, give your attendees a sneak peek at how to use your hybrid event platform. Sundance Film Festival made their own video to help their attendees navigate the switch from in-person to virtual this year.
Day Of:
👀Monitor!
Enjoy your event – but don't relax just yet! Take this time to monitor what's going on and use the flexibility of hybrid events to your advantage. Send attendees daily recap emails, follow up with speakers who crushed their session, document which sessions had high and low attendance, and maybe even plan an encore session if an audience had too many questions during a speaker's Q&A session.
🍾 After:
Evaluate & analyze
Run a full evaluation of your hybrid event. Target attendees and speakers with a survey. Select a few attendees and call them to get feedback and consider offering an incentive. With their permission, collect their quotes to use them to promote next year's event.
Use the power of your event platform, event registration, and online evaluations to gather important data points:
Number of Attendees

Social Media Reach

Leads Captured

Clicks on Sponsored Ads & Logos

Tradeshow Booths Visited

Presentation Downloads

Attendee Engagement

Survey Results

Downloads after the Event Ends
Want all this in a graphic guide you can share with your team? We got you covered:
Subscribe here to get our latest articles.