Guide to On-Demand Event Badges
Long lines, confused attendees, wrong names on badges… Welcome to every event planner's worst nightmare! What if registration didn't have to be that way? We believe event check-in & attendee badge printing can be seamless. It can even provide a "WOW" factor AND be cost-effective!
Why Use On-Demand Badge Printing?
Printing badges on-site is a great way to streamline your planning and attendees' check-in process. Rather than being overwhelmed with boxes of pre-printed badges, on-demand printing is…
Efficient: Get badges exactly when and where you need them. Pre-printing and transporting hundreds of badges to your in-person event can turn into a logistical mess. On-site badge printing will eliminate the hunt for a singular badge amidst hundreds.

Sustainable: Eliminate waste by only printing badges for attendees that show up to the event. Go even greener by utilizing eco-friendly badge materials.

Customizable: Attendees can preview their badge and fix any spelling errors or title changes before the badge is printed, drastically reducing reprints and bringing a more customized experience to your attendee.

Flexible: No more closing your online registration website weeks before the event. Manage your attendee lists online and quickly register walk-ins with the same quality as those pre-registered for the event. We have seen that keeping registration open boosts attendance by upwards of 15%!

Secure: Printing badges as attendees arrive allows event organizers to verify and exclude unwanted guests. Self-serve check-in kiosks allow attendees to sign agreements and verify registration data while also editing agendas, identifying meal choices and dietary restrictions, and collecting balances due.

Impressive: A smooth on-site check-in experience lets attendees know they will have a seamlessly high-tech, customized experience. This is, after all, going to be the first impression your attendees have of the event – make it incredible!
How Does On-Demand Badge Printing Work?
Register Attendees:
Have interested attendees register online. You can collect as much attendee data as needed, segment your attendee types, and even process payments. Need a crash course in online event registration? Check out our 101.
But remember: the beauty of on-demand badge printing is that you'll still be able to take walk-ins at your event. While knowing the attendee count will be advantageous before your event starts, taking walk-ins is a considerable event benefit and should be advertised. It'll show your event is open to all and that you're able to flex at a moment's notice.
Pre-Event Setup:
Depending on the design of your badge, you may choose to pre-print part of your badge. Large fields of color (which take longer to print) and static content like the event logo can be printed before your event. Flexible content like attendee info can be quickly printed at check-in.
Onsite Hardware:
Attendees will be visiting a check-in station upon arrival. This consists of a kiosk and a badge printer. Typically, we recommend one check-in station per 100 arrivals within an hour. So, if you have 500 attendees arriving in an hour, you'll want at least five check-in stations.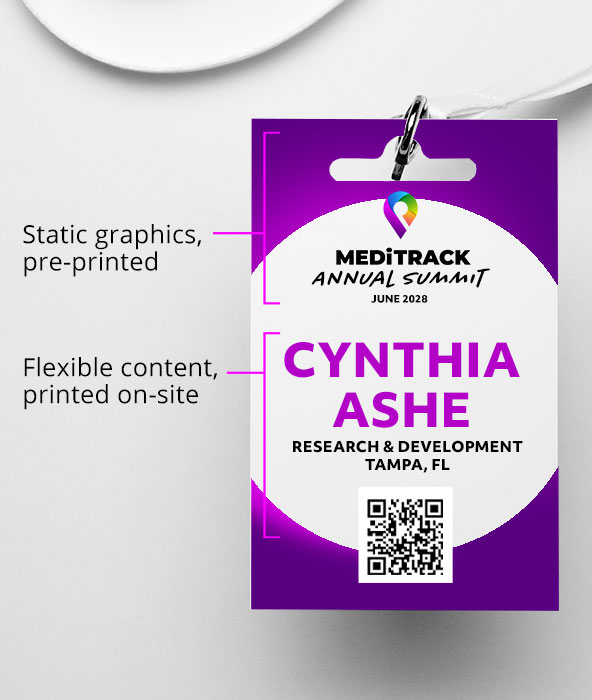 The number of stations can vary, though. For example, Zebra card printers are speedy printers that can decrease the number of check-in stations needed. It's not an exact science, so we recommend bringing a few extra printers and self-serve kiosks as backups.
Event Day:
Your attendees are arriving! The badge printing process starts with your attendee scanning a barcode/QR code or searching for their record by name, email, company, or confirmation number on a self-serve check-in kiosk. Once they've located themselves in the system, they get a preview of their event badge on the screen and can edit their data, such as the spelling of their name, if needed (we recommend allowing for it). Finally, they can print it when they're satisfied with their info!
💡 Pro Tip: Get a sponsor for your on-site badge printing kiosks! Sponsorship can not only cover the cost of the kiosks; it can even generate additional revenue for the event.
Before You Implement On-Demand Badge Printing Remember to…
Sync & Backup Your Data: Regularly back up data and be sure it's stored both in the cloud and locally, in case Wi-Fi is unstable at your venue.

Have a Power Backup: Be ready for anything – including a venue power failure!
Since 1995, we've provided in-person events with innovative technologies and hands-on service, powering more than 12,000 events around the world. Get in touch if you're looking to implement on-demand badge printing at your next event.

Subscribe here to get our latest articles.