Touchless Badge Printing: The Power of a Hands-Off Approach
Even before COVID-19 existed, we were working on touchless badge printing solutions. Why? Turns out event organizers and attendees both find it a frustrating process. Waiting in line to get a silly little badge and lanyard upon arrival can be confusing, labor-intensive and time-consuming. It overshadows this critical time for event organizers and attendees to make good first impressions. And even more frustrating? It's a missed opportunity to collect or correct important data to improve the event before, during and after.
We put our heads together to brainstorm how to improve registration and found that we could combine the power of a few digital tools to make the process smoother. The ability to digitally gather data from attendees, create badges and sign documents yields many benefits:
Speedier check-ins

Protection from the spread of germs

A more custom experience based on real-time information

Flexibility for late registrations or walk-ins

Cost savings from fewer required registration personnel

Data collection for future sponsor and event planning
Why not just do away with the physical, wearable badge, you ask? We learned that attendees do in fact enjoy wearing badges – it gives them a leg up on meeting people and remembering names. Badges are helpful icebreakers that facilitate connection and distinguish attendees from exhibitors and event staff. But how do you create and print badges at an event without spreading germs to hundreds of people?
Touchless badge printing is no longer the future, it is reality.
Enter the GTR™ Badge Printing Platform! This new system creates a touchless event check-in process for every attendee, giving a safe, personalized introduction to your event.
Here's how it works: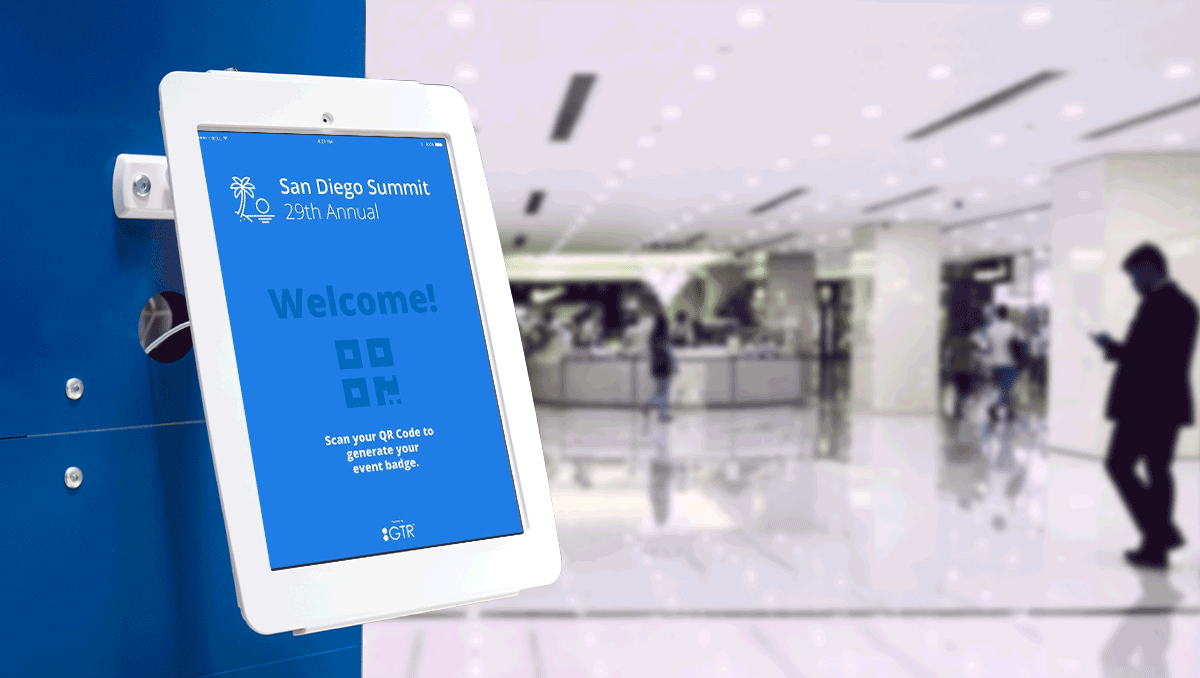 Step 1: Attendees register online
During online registration, attendees are provided with details and an explanation of the touchless badge printing process so they know what to expect when they arrive. The GTR™ Badge Printing Platform integrates with all popular event registration providers including the GTR™ Event Registration Platform, Eventbrite, Cvent, and many more.
Step 2: Generate a unique QR code
Once they have completed registration, event attendees are provided with a unique QR code and instructions for checking into the event upon arrival.
Step 3: Event Day!
Once on-site, our event experts will set up and test the badge printing hardware and software, and we'll train your staff to operate the system. When attendees arrive, they will notice the enhanced cleaning and hygiene standards at check-in: they'll scan their QR code to generate a name badge, all without touching the kiosk. From there, signage will notify attendees where to safely pick up their custom, printed badge. Of course, event support staff will be on-site to help with any issues in-person.
Using smart technology to put badge printing into the hands of attendees sets the tone for a safe and clean event. It'll also allow event planners and support staff to focus on increasingly complex tasks, and give exceptional in-person support.
At GTR, we believe applying smart technology and processes to important event needs like badge printing enhances the customer experience. We'd like to help you.
Regards, Team GTR™ 👋