2020: A Year in Review
Amazing how much change can be forced upon an industry in one calendar year.
We at GTR™ began the year with bookings and projections for the largest year in our 25-year history, continuing our rapid growth. In the first quarter of 2020 we helped corporations & associations improve their attendee registration experience, brought revolutionary, inexpensive full-color PVC badge printing to 3 continents and provided tens of thousands of leads to exhibitors and sponsors.
Then COVID Hit…
Our team went all-in on virtual events. We decided early that we would provide the best platform and support available in the event technology industry. Support has always been essential to working with GTR™. With this dramatic pivot, planners would need our virtual "hands-on" expertise and experience to help navigate this new virtual world.
We started booking virtual events in April and have not stopped! I'm proud to report that in that time we have…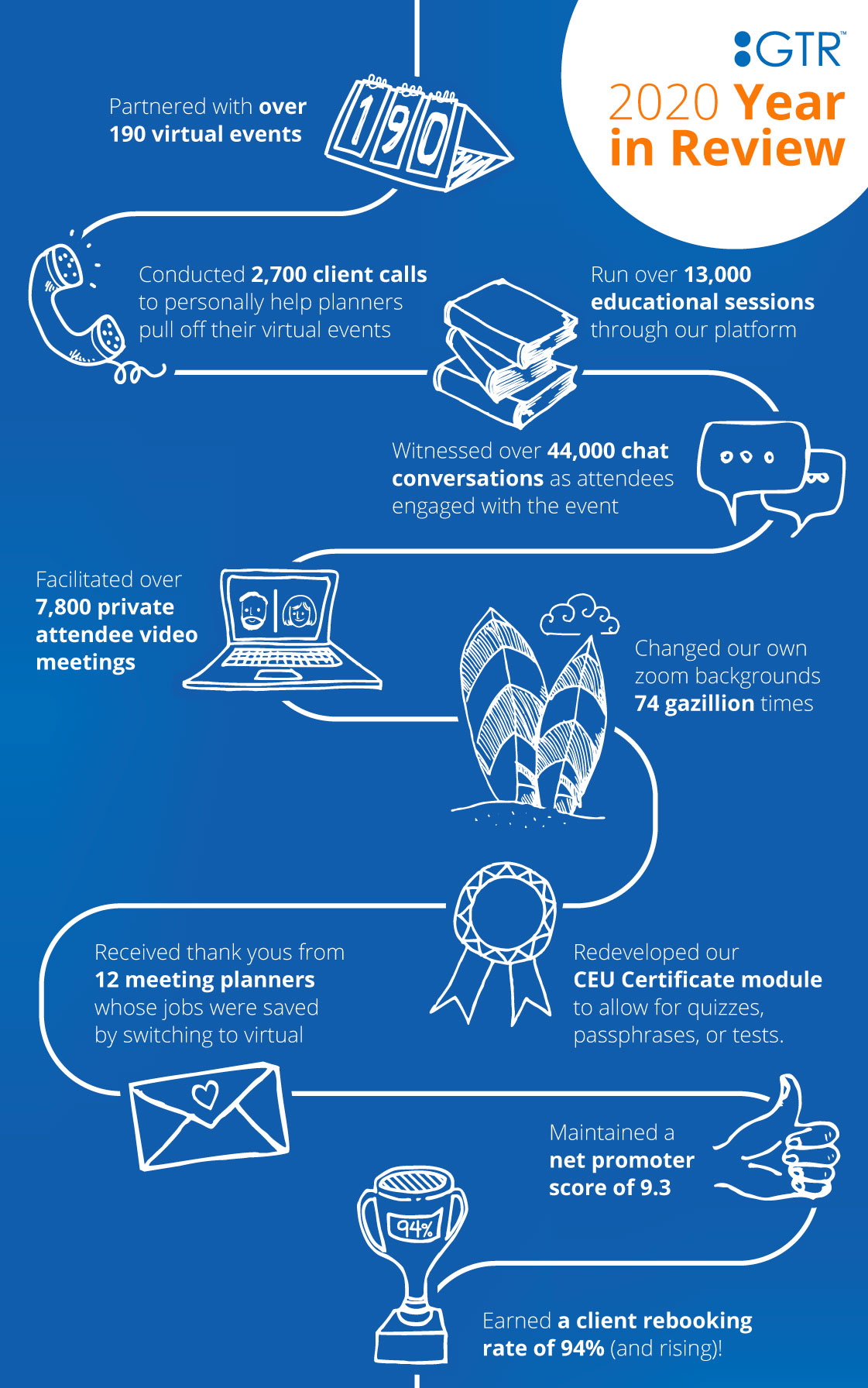 We at GTR™ believe that tradeshows, conferences, meetings, and events foster human connections that change the world. It is why we do what we do. As has always been our goal, our focus is making the technical aspects of meetings and events easy so you can focus on doing the real work of creating a remarkable event. This has never been truer than at this moment.
In 2020 event technology became the event venue. Like many of you, we are eager for events to occur in person again, as virtual events cannot replicate the serendipity nor create the emotional connections that in-person events do. But the world has changed, virtual is here to stay. Hybrid is on the horizon. GTR™ is here to help, as we always have, through it all.
Here is to a bright and healthy 2021!
-Travis Tucker
If you'd like to learn more about us, check out GTRNow.com.
Subscribe here to get our latest articles.